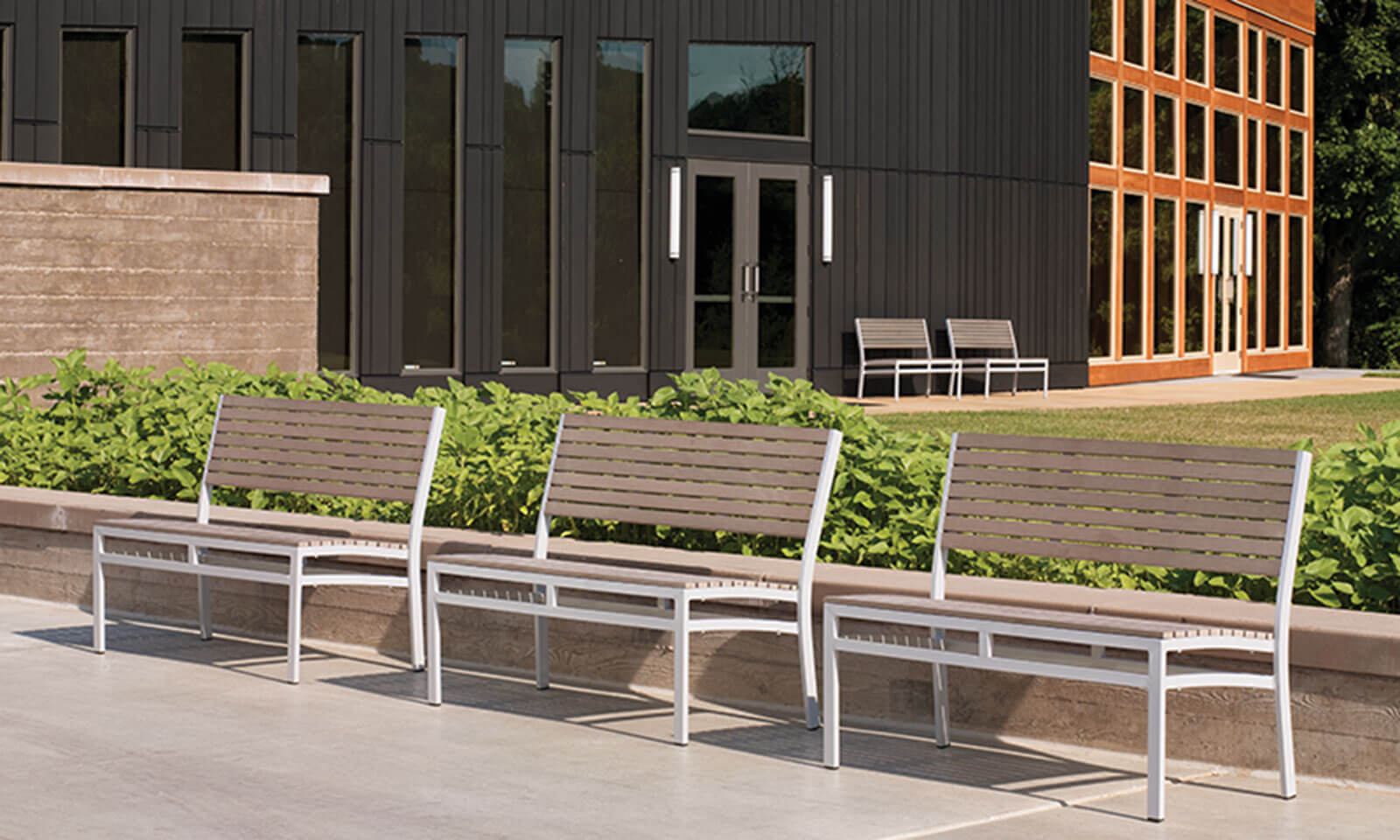 Municipalities face many issues in their effort to create a livable and sustainable environment that is ergonomic, aesthetically pleasing and environmentally responsible. Park and recreation planning, site planning, landscape planning, historic preservation and reclamation, and ecological planning and design are among these concerns. A growing number of municipalities are incorporating green laws, designed to nurture, preserve, protect, and rebuild nature in urban environments. Whether planning commercial, public, or industrial spaces, sensitive design planning produces a municipal development that both minimizes project costs and limits environmental impact while adding value to the project. Having the right partners in this task of building and rebuilding is an equally critical element of the process that will yield the desired results. Oxford Garden is a natural choice when selecting outdoor furniture and man-made elements to incorporate into your municipal projects.
Oxford Garden outdoor furniture offer aesthetically pleasing designs for a variety of settings including those in which municipalities develop. All our outdoor furniture carries the mark of quality craftsmanship that yields years of service and durability. Many of our outdoor furniture products are built from shorea wood, a wood similar to teak with the same desirable qualities. Shorea wood ages beautifully and can withstand the elements. Additionally, our other collections are made with materials including, teak, acacia, aluminum, composite sling and resin wicker. All of the materials we use have a reputation for their ability to endure outdoor elements. The strength of Oxford Garden outdoor furniture makes it a good fit for the high traffic needs of municipalities. The aesthetic appeal and long lasting construction of our products embody the desirable qualities municipality planners and designers incorporate in their plans.
MUNICIPAL SITE PLANNING
Municipal site planning can range from a single office building to an entire residential community or shopping center. Regardless of the size of your project, an important aspect is the blending of the natural elements within the construction of your site. Oxford Garden offers a variety of outdoor furniture products that possess a timeless design that can help you achieve this important balance. Our outdoor wood and mixed-material furniture pieces blend beautifully with a variety of architectural styles and complement rather than detract from their surroundings. Our outdoor wood furniture is constructed from shorea, teak and acacia woods, which if left untreated will slowly and gracefully weather to a subtle gray. If the original color of the wood is preferred, routine oil treatments of the wood are required. Our outdoor wood furniture products will age without splitting or cracking and remain structurally sound. Our other collections, made of materials such as powder coated aluminum and resin wicker, have proven their strength for outdoor municipal environments. The aesthetic designs of Oxford Garden outdoor furniture accentuate and do not overpower the other architectural features of any project.
MUNICIPAL LANDSCAPING
Landscape design involves the treatment of an outdoor space as art. The blending of surfaces, colors, the site's infrastructure, and outdoor furnishings are critical elements to consider. Oxford Garden offers a variety of outdoor furniture with different purposes and styles for whatever landscape effects you are striving. Widely used outdoor furniture pieces included in landscaping are garden benches, dining/picnicking ensembles, trash receptacles, and planter boxes. Our wide selection of designs offers many choices in line, form and scale that can be matched to any landscape setting and its specific purpose.
MUNICIPAL PARK AND RECREATION PLANNING
Municipalities are increasingly interested in either creating, or redesigning park and recreation areas – green spaces in urban settings. In recent years for instance, there has been a movement to turn old railroad tracks into trails for recreation purposes. Newer municipalities incorporate design elements that are more conducive to promoting and encouraging active lifestyles for urban dwellers that are increasingly seeking out safer and more attractive recreational areas in which they live and work. Oxford Garden can help municipal planners and architects meet the challenges of creating these spaces while incorporating harmony and unity among major design elements. We build a variety of elegant outdoor furniture in numerous styles including patio tables, outdoor chairs, and outdoor wood benches. Our classic English garden style furniture perfectly enhances quiet spots and garden settings, and our Adirondack chairs, Shorea wood rockers, and chaise lounge chairs are among some of our most popular outdoor wood furniture pieces for outdoor lounging. No matter what style or the purpose of furniture your municipality may choose, it will not only blend but will complement your settings; even our trash receptacles are attractive and blend aesthetically into outdoor settings and provide years of maintenance free service that is unmatched by other woods.
HISTORIC PRESERVATION AND RECLAMATION BY MUNICIPALITIES
Municipalities face the particularly challenging task of authentically restoring and preserving historic buildings and neighborhoods, thereby preserving the past for generations to come. Oxford Garden offers a unique solution to this challenge. We build a one of a kind 'Signature Series' wood bench in which a memorial and/or logo is laser engraved into the back of the wooden bench itself. This extremely popular and attractive piece of outdoor wood furniture is proving to be the perfect display for memorials to notable individuals and as a way to display special historical events and dates of historical or honorable mention. Our Signature Series memorial bench is the perfect companion for the purpose of historical preservation, reclamation, and identification. Many of our clients create entire settings where these distinctive wooden benches serve as the focal point. All of our beautiful outdoor wood furniture accentuates rich architectural styles of historical buildings and areas without detracting from their rich historical presence and detail.
Oxford Garden is the perfect partner for the special challenges that municipalities face in their effort to create an inviting, authentic, ergonomic, and artistic panorama for urban living. In addition to our products being extremely durable and beautiful, we are able to offer them at an affordable and competitive price. Oxford Garden is proud of the quality construction and craftsmanship they put into all their outdoor furniture products as well as the service we provide to our commercial clients.