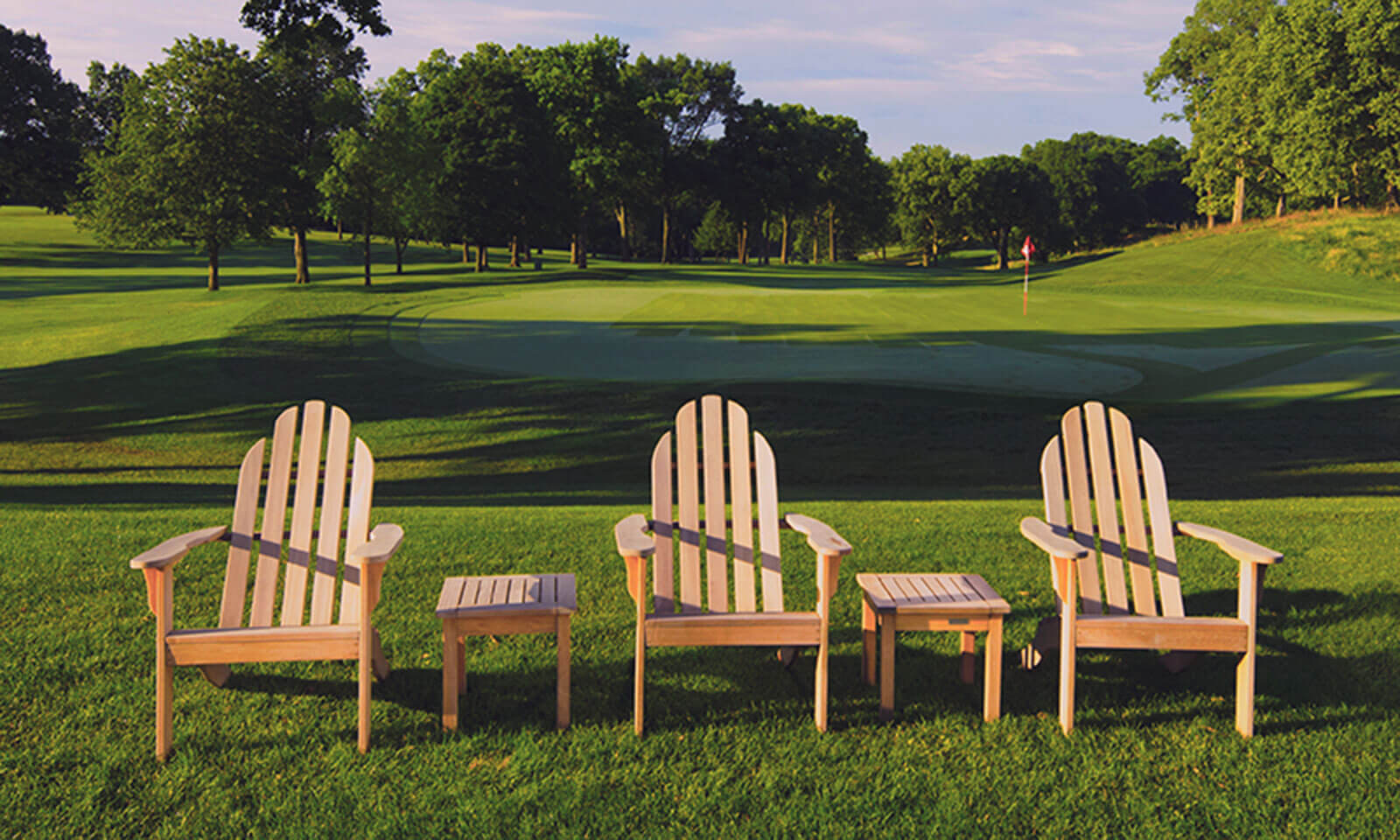 Skillfully engineered to be challenging, beautifully sculpted to be aesthetically pleasing, and meticulously maintained, the golf course is an outdoor palace of grand scale that invites visitors to take pleasure in their surroundings while focusing on their personal best. Golf courses exemplify timeless tradition, character, drama, environmental responsibility, and visual aesthetics while blending these elements into a harmonious work of art that appears to be ageless and at one with nature.
At Oxford Garden our outdoor furniture design and manufacturing principles mirror that of well designed golf courses and the design principles used by the golf course architects who build them. Our outdoor furniture is a natural partner for golf courses because our wood and mixed-material furniture complements the design principles used by golf course architects themselves. Each of the three following elements creates great golf courses and makes for a harmonious blend of nature and man-made elements essential to the golf course. We address each of these elements to show how our products can help meet these challenges.
THE ELEMENT OF ENVIRONMENTAL EXCELLENCE
Oxford Garden builds graceful, sophisticated, and traditional yet elegant outdoor furnishings from a strong materials including, shorea, teak acacia, aluminum and resin wicker. These materials weather wonderfully and withstand the elements while offering longevity. As they age, our wood products take on a character of maturation and blend with their surroundings. Our outdoor furniture looks like it belongs and does not take away from or overpower the aesthetic beauty of the golf course.
THE ELEMENT OF DESIGN
We build a wide selection of timeless designs and multipurpose furniture pieces and accessories that possess character and charm perfect for the outdoor needs of the golf course and the clubhouse areas. Tee box bench seating, divot boxes, planter boxes, and trash receptacles are available for use on the course. Other outdoor seating, dining, and lounging pieces are available for the clubhouse, poolside areas, and around the pro-shop as well, and give your course a cohesive and consistent aesthetic look and feel that doesn't end once you leave the course. Our outdoor furniture styles complement the natural beauty of the golf course without being pretentious. Additionally, we build the one of a kind 'Signature Series' in which your golf course logo or a memorial can be laser engraved into the back of the bench itself offering a customized accent to the furniture on your course or add that extra touch to your courses signature hole.
THE ELEMENT OF MAINTENANCE
Our wood furniture, if left untreated will slowly and gracefully weather to a subtle gray. If the original color of the wood is preferred, routine oil treatments of the wood is required. Climate conditions will determine how rapidly or slowly the wood will age. Treated or untreated, our wood products will age without splitting and remain structurally sound. Our aluminum and resin wicker collections require very little maintenance and are designed to endure the elements, offering a great alternative to the natural wood furniture. Each piece of Oxford Garden outdoor furniture offers attractive endurance without the need for lots of fuss.
All of these elements are essentials in golf course design, aesthetics, and maintenance concerns and the features incorporated into the design of the course. Whether you are a club pro, club manager, or purchasing agent, updating or renovating an established course and grounds, or outfitting a new one; you will find that Oxford Garden's outdoor furniture lines are compatible with the essential design elements used in golf course architecture and address your needs of harmony, balance, and unity between nature and man. In today's budget conscience world of bottom lines, Oxford Garden offers quality outdoor furniture at an affordable and competitive price.
Oxford Garden is the natural choice for your golf course or country club's outdoor furniture needs, both on and off the tee. Our furniture pieces are favorites among existing golf course customers who are loyal to the quality and craftsmanship of our products.