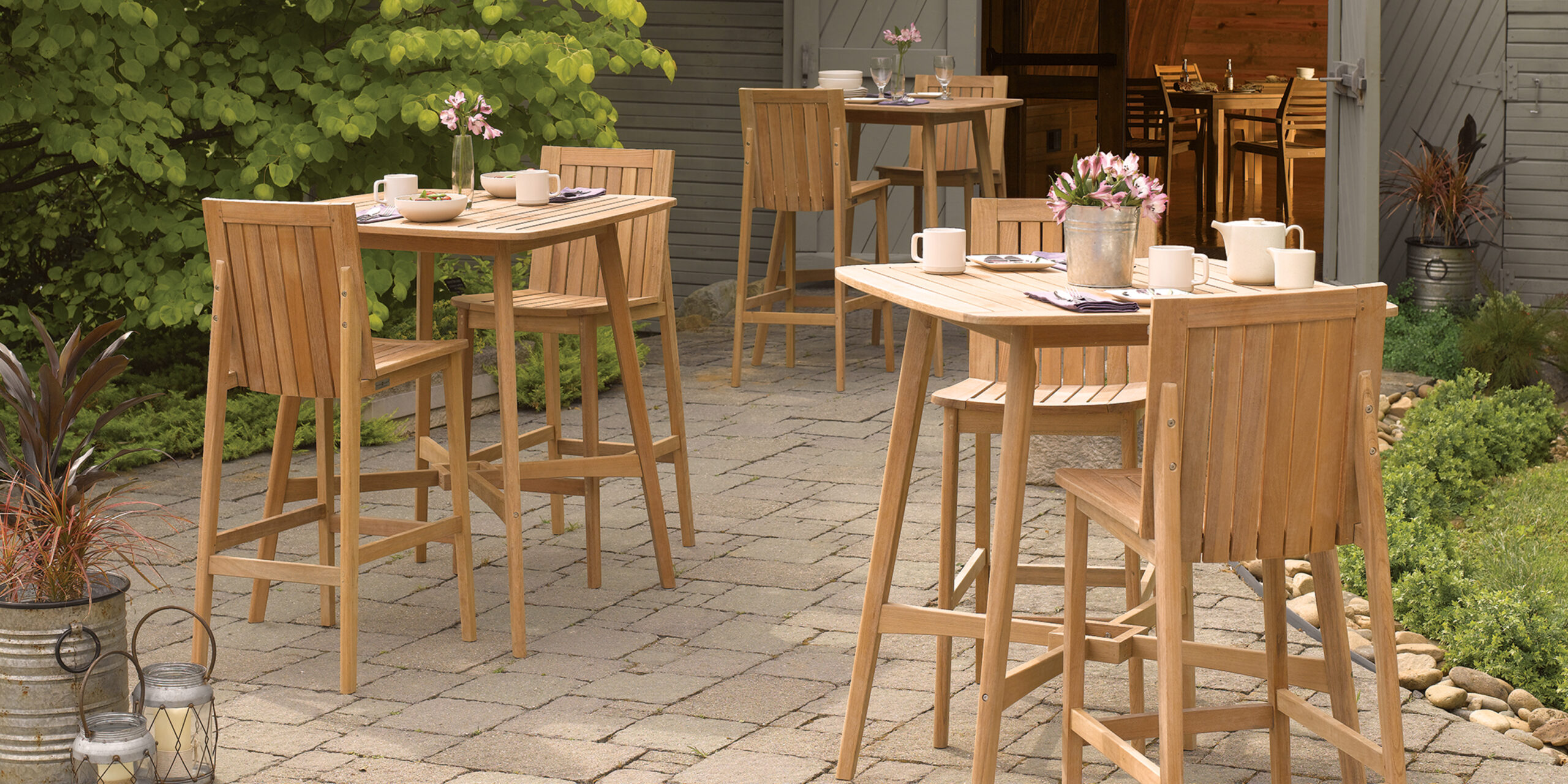 3 MIN. READ
When it comes to outdoor furniture materials, there's nothing quite like teak, making it a popular choice for those who want high-quality furniture for their outdoor area. But what are the benefits of choosing teak?
The benefits of teak wood
The teak tree grows in Southern Asia and has long been sought after for its lumber. Once used primarily for shipbuilding, much of the teak wood produced today is for furniture. For nearly 2,000 years, teak has been a reliable choice for a few reasons:
Beauty. The heart wood – the interior portion of the trunk – is naturally beautiful. It starts as a warm, deep golden brown color that changes to a distinguished gray patina as it ages. Both the golden brown and gray colors are charming. However, just know that teak must be oiled regularly or sealed in order to preserve the original, golden hue. Additionally, always make sure you're getting heart wood teak and not the outer layers known as sapwood – it's lesser quality since the rich oils are more abundant within the heart.
Versatility.Depending on which color you enjoy most – gray or golden brown – teak furniture fits right in with any aesthetic style. It can be integrated seamlessly into traditional, mid-century or contemporary designs, and it can balance the room or contrast other pieces in your setup. With teak, you can promote a muted elegance or a warm, inviting feel to the area. This makes it one of the more stylistically flexible woods, and you should have no problem changing things around teak staples.
Durability. Teak wood has a large amount of oils that provide it with natural weather resistance. Because oil and water don't mix, rain doesn't get a chance to penetrate the surface. This makes it a great choice for outdoor furniture. Teak is also a very hard wood, so there is less cracking or splintering. As such, even with heavy use, teak outdoor furniture can last up to 15 years when maintained properly. This makes it a great investment, especially if you don't want to replace your outdoor furniture frequently.
Oxford Garden offers a variety of teak furniture to fit any style. You can use teak as the foundation of your furniture plan, or use your favorite teak pieces as accents within a more comprehensive aesthetic. For instance, teak tables or chairs would complement and provide some pop to our Eiland collection. Conversely, if you want teak to be a fundamental element in your design, collections such as Siena contain furniture that's constructed primarily teak wood. Whichever direction you decide to go, the beauty, high durability and overall versatility of teak furniture makes it a reliable and desirable choice.
Teak or no teak, Oxford Garden has what you need to furnish your outdoor areas. We've been in the business for over two decades and have built up a fantastic reputation for well-designed, high-quality products. Our furniture will transform your outdoor spaces into welcoming, in-demand spots. We have options for commercial and residential areas that will fit your needs, so visit our website to see all we have to offer. You'll be kicking back, relaxing and enjoying the outdoors in no time.