The tumultuous year that was 2020 has changed the ways we all work and live. Gatherings that were a normal part of socializing in January had become unthinkable by March. Undeterred, we found ways to stay healthy and still be around others.
Outdoor spaces grew in importance, especially in regions where indoor dining or gatherings were severely curtailed. Because of this, we recognize the importance of providing a wide variety of options to help businesses outfit their spaces in this new world.
Here at Oxford Garden, we focus on delivering the finest outdoor furniture for commercial spaces. Our designs are distinctive yet functional and attractive. This year's catalog is full of new designs that were created to connect us with nature while still expressing human creativity. We hope you enjoy this preview of what is to come in 2021.
Evolution
Evolution is defined as the process of growth. New for 2021 our latest evolution is the bold infusion of color across our products and materials. Oxford Garden seeks to inspire our customers so we've curated color palettes across the spectrum to aid in the design process.
Fans of the ocean will love the Coastal. It evokes the mysterious blue hues of our oceans, the seafoam of distant shores and the crystal sharp relief of icebergs.
Flora will touch your love of nature through its bright and inspirational colors. Soft and vibrant complement each other as this pattern gently emulates natural landscapes.
Between dawn and dusk resides Celestial. Exploring the balance of light and dark, this pattern embraces the pinpoint simplicity of stars in the night sky.
Helios brings to mind the rich color of a sunset, rust and plum contrasting with taupes and umbers. Harness the energy of today's finale to power the dreams of tomorrow.
Picture the colors associated with strolling through an Orchard, and you'll immediately resonate with our palette that bears the same name. Azure, orange, cerulean and indigo are a few of the bold colors that stir images of citrus fields beneath an expansive blue sky.
When you get back to basics, you're tapping into the Primal. The raw energy contained in the basic elements of life is represented here. Let this boldness bring out the primitive inside your business.
New 2021 collections
Design additions also extend to furniture styling. New for 2021 is several Oxford Garden design collections that will inspire even the most discerning customer.
The Neo-classical Azal is equally at home in traditional or contemporary settings. The flowing curves of this design offer comfort and style in one unique package. It's currently available with a powder coat frame and a variety of seat colors.
Belani offers understated angles combined with a distinctive woven rope application, resulting in a graceful blend of style and beauty. Woven rope in Galaxy and Smoke creates the back of these luxurious armchairs with leathery smooth Nauticau-SI Onyx and Porcelain for the seat options.
Dip your toes in the past and present simultaneously with Kapri. These retro-future pieces complement any contemporary space with bright colors like calming Sage, bright Azure and modern gray Carbon.
Journey across the ocean for a taste of European styling with Lipari. Modeled after the popular bistro look, it's offered in many colors including bold red Venetian, jovial yellow Saffron, subtle gray Flint and citrusy orange Mandarin.
Oland brings the inside outdoors with its weather-resistant quilting. Plush and luxurious, it features a Quilted Sunbrella seat/back. This waterproof material provides a sharp contrast with the chair frame, thanks to colors like the dark Spectrum Indigo, light gray Canvas Granite and the aptly named Rust. All Sunbrella materials are accented with white stitching.
The minimalist Ven eliminates complications with clean, modern lines to enhance its look and durability. PVC threads woven into mesh create the material known as Sling, which is offered in colors like blue Ink Pen, Titanium and Ninja.
Adaptation
By extending our new materials and colors to our existing product lines, Oxford Garden gives you the opportunity to truly find the right solution for your space in 2021.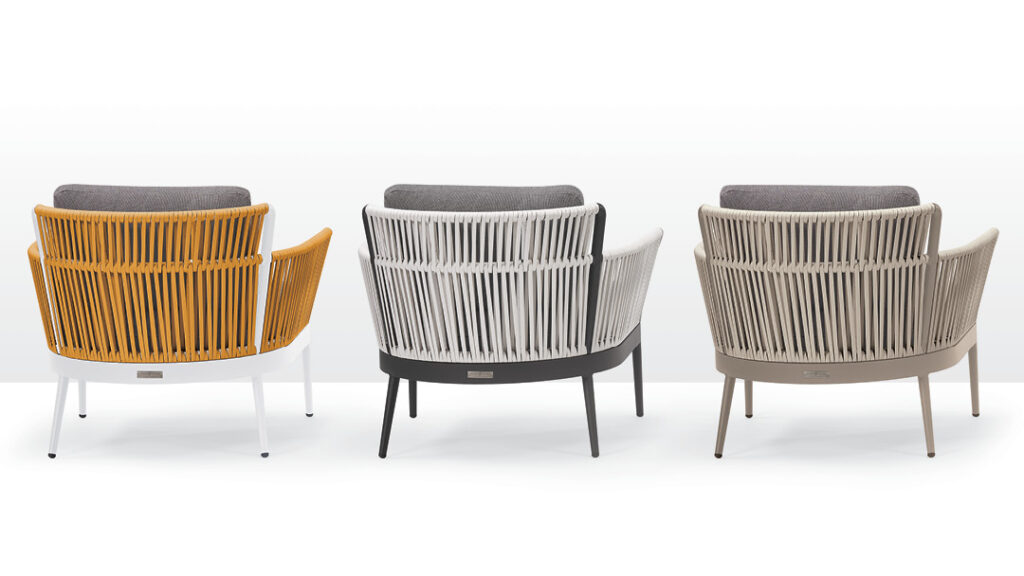 Nette now includes new powder coat finishes and a new material for it's sleek straps and integrated cushion seat. The dark gray Nauticau-SI Onyx, the tropical blue Placid and deep orange Curry are just a few of the options.
Travira, Argento, Koral, Eiland and Salino all have new powder coat options to complement both traditional and contemporary spaces.
New Oxford Garden material details
The materials of our furniture are optimized for resistance to weather and heavy usage. New for 2021 is two new materials: Nauticau-SI and Rope.
If you love rich leather, you'll love Nauticau-SI. This material is an enhanced version of our Nauticau fabric that uses healthcare-grade silicone instead of PVC. This high-performance rubber polymer fabric does not fade in sunlight, seawater or chlorine, and it maintains a feel of soft, supple leather. EPA-certified as anti-mildew, anti-microbial and anti-bacterial, Nauticau-SI is easy to keep clean, which is an important consideration in today's world.
It may have a simple name, but our new rope is an extremely sophisticated execution of a staple outdoor material. A blend of custom solution-dyed poly threads is woven around a polyester core creating a rope that is both unique and extremely durable in all conditions. Our rope is UV-, mold- and stain-resistant. Environmentally friendly too, this rope has the same feel and look as high-end fabrics but with far more versatility.
Extended Lead Time
With hundreds of color and material combinations now available, Oxford Garden gives you the freedom to fully customize your design. Mix and match our 16 powder coats and your COM/SOF fabrics with any collection to create a one of a kind design. Customized products and some of our more unique finishes will have Extended Lead Time (ELT) and Minimum Order Quantities (MOQs). To learn more, you can reach out to our talented sales team by calling 877-866-3331 or emailing [email protected]
Quick Ship
For projects requiring immediate turnaround, Oxford Garden offers a comprehensive selection of our most popular products in our most popular finishes and fabrics available for Quick Ship. These items are clearly marked on individual product pages or you can simply Click "Search" on the top right of any oxfordgarden.com page, type "Quick Ship" in the search bar to see all of our Quick Ship Products. Most Quick Ship items ship in 1-5 days of receiving the order based on the available quantities.
Our 2021 catalog is full of creative options to make your outdoor space the new go-to spot. We hope that this year is full of positive experiences and that we can be a part of them.